Polymer Clay

PV

Clay

Polymer Clay
- PVClay Polymer Clay, has two basic types.
PVClay Decor 56g
PVClay Escultura
PVClay Decor 56g was developed to be used in modeling techniques such as Millefiori, Mukume-Gane, Mica Shift, among others. When completed they are used for the making of Jewelry like Earrings, Necklaces and Bracelets. They are also used in accessories for Decorating Environments such as Washers, Bottles and Vases Coated, where creativity is the limit.
PVClay Escultura is specially formulated for Dolls and Realistic Sculptures, Caricatures and Reborn Babies.
Easy to condition without losing the condition of being firm enough not to deform the details modeled.
It has three colors that try to imitate the shades of human skin, Black Skin, Clear Skin and Medium Skin.
Possui também a cor Cinza Firme que tem consistência mais firme para quem procura por detalhes extremamente finos e delicados.
Finalmente a cor Translucido que é muito utilizada para "diluir" uma das cores citadas e então será alcançado grau de transparência na cor resultante. Dentes, olhos e unhas ganham tons realísticos com essa cor.
How to Condition It Properly
Before starting the modeling it is necessary to Condition it (Decor 56g or Sculpture) so that it reaches the correct point of malleability and elasticity.
It is easy to make, although it has a hard consistency initially.
You can combine two or more colors. In its presentation 8 divisions are observed to facilitate the composition of exclusive colors.
The product remains malleable until it is subjected to heat to permanently harden. To harden in the format that has been modeled, it is necessary that it remains inside ordinary oven (electric or gas) not in the microwave), heated with temperature of 130 ºC during 30 minutes at least. 130ºC durante 30 minutos.
How to Bake it
PVClay Polymer Clay can be baked in pieces and then returned to the oven to finish the job.
For example, make a ball and bake. Then add more PVClay without being baked. Model it and return to the oven to bake again.
Think of a sculpture where it is possible to model more delicate parts such as hands and feet, join them to arms and legs already baked and re-bake.
After the molded part is cooled, it can be drilled, sanded, polished, varnished (use Gloss-PVClay varnish) etc ... PVClay-Gloss).
The piece, after baked, practically does not contract, becomes unbreakable and totally resistant to water.
PVClay Polymer Clay is not harmful to health. This does not mean that it can be ingested.
Auxiliary tools such as rollers, cutters, pasta machines, baking sheets and processors used to work with PVClay should be used only for this purpose and no longer in food.
PVClay on YouTube
Inscreva-se no nosso canal no YouTube para conhecer dicas e truques sensacionais de modelagem com Cerâmica Plástica (Polymer Clay).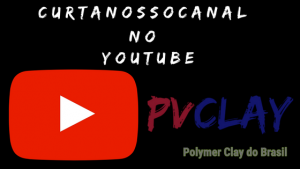 PVClay on Pinterest
Get to know projects that use Polymer Clay as the main modeling material. Inspire yourself .... and Do It Yourself with PVClay.