PV

Clay

  Polymer Clay
PVClay Polymer Clay, has two basic types of mass for modeling.
PVClay Decor 56g

PVClay Esculture.
PVClay Polymer Clay Decor 56g,Decor 56g has been developed to be used in modeling techniques such as Millefiori, Mukume-Gane, Mica Shift, among others. When completed they are used for the making of Jewelry and Costume Jewelry (Earrings, Necklaces and Bracelets). They are also used in Decorations for Decorating Environments such as Washers, Bottles and Coated Vases, in order creativity is the limit.
PVClay Polymer Clay Sculpture is specially formulated to make Dolls and Realistic Sculptures, Caricatures and Reborn Babies.
Easy to condition without losing the condition of being firm enough not to deform the details modeled.
It has three colors that seek to imitate the shades of human skin, Black Skin, Clear Skin and Medium Skin.
It also has Firm Gray color that has firmer consistency for those looking for extremely fine and delicate details.
Finally the translucent color that is used a lot to "dilute" one of the cited colors and then will be achieved degree of transparency in the resulting color. Teeth, eyes and nails gain realistic shades with this color.
How to Properly Condition
Before starting the modeling it is necessary to prepare / soak / condition the mass (Decor 56g or Sculpture) so that it reaches the correct point of malleability and elasticity.
It is easy to make, although it has a hard consistency initially.
You can combine two or more colors. In its presentation 8 divisions are observed to facilitate the composition of exclusive colors.
The dough remains malleable until it is subjected to high temperature to permanently harden. To harden in the shape that was modeled, it is necessary to remain inside ordinary oven of electric or gas cooker (can not in the microwave), heated with temperature of 130ºC for 30 minutes.
How to Bake Properly
PVClay Polymer Clay, can be baked in pieces and then returned to the oven to finish the job.
For example, make a ball and bake. Then add dough without being roasted. Model and return to the oven to bake again.
Think of a sculpture where it is possible to model more delicate parts such as hands and feet, join them to arms and legs already roasted and re-bake.
After the molded part is cooled, it may be perforated, sanded, polished, varnished (use PVClay-Gloss varnish).
The shaped product, after roasting, practically does not undergo contraction, it becomes unbreakable and totally resistant to water.
PVClay Polymer Clay is not harmful to health. This is not to say that it can be ingested.
Auxiliary tools such as rollers, cutters, baking machines, baking sheets and processors used to work the dough should only be used for this purpose and no longer in food
PVClay on YouTube
Sign up to our YouTube channel for great sensory modeling tips and tricks with Polymer Clay.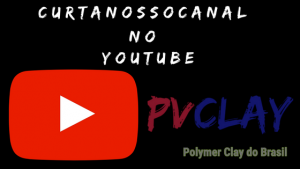 PVClay on Pinterest
Get to know several projects that use Polymer Clay as the main modeling material. Inspire yourself ….